POS Official Facebook
_____________________________________
January 2019
| Mon | Tue | Wed | Thu | Fri | Sat | Sun |
| --- | --- | --- | --- | --- | --- | --- |
| | 1 | 2 | 3 | 4 | 5 | 6 |
| 7 | 8 | 9 | 10 | 11 | 12 | 13 |
| 14 | 15 | 16 | 17 | 18 | 19 | 20 |
| 21 | 22 | 23 | 24 | 25 | 26 | 27 |
| 28 | 29 | 30 | 31 | | | |
Calendar

Statistics
We have
364
registered users
The newest registered user is
rianel_lewrej
Our users have posted a total of
1218
messages in
201
subjects

Anime News:



Wooser's Hand-to-Mouth Life Manga Gets TV Anime by Supercell Members


Death Note's Mamoru Miyano voices mysterious mascot of supercell's Yoshiki Usa




The Japanese broadcaster TV Tokyo opened a website to announce that a weekly anime adaptation of Yoshiki Usa and Tomoko Fujinoki's Wooser no Sono Higurashi (Wooser's Hand-to-Mouth Life) manga will premiere on October 2. The 3D shorts center around Wooser, a mysterious mascot character who lives on the Internet and whose charming appearance belies a corrupt heart that craves money, meat, and gals.

=====



P.A. Works, Dengeki Daioh Make Nagi no Asu Kara Anime


Black Butler director Shinohara, AnoHana writer Okada, Haganai designer Buriki involved

The October issue of ASCII Media Works' Monthly Comic Dengeki Daioh magazine is announcing on Monday that production on Nagi no Asu Kara, an original animation from the studio P.A. Works and the magazine, has been green-lit. Toshiya Shinohara (Black Butler, The Book of Bantorra) is directing off scripts supervised by Mari Okada (Black Butler, The Book of Bantorra, AnoHana, Hana-Saku Iroha). Buriki (Haganai, Denpa Onna to Seishun Otoko) is in charge of the original character designs.

The project will be presented at a stage event during the Dengeki 20th Anniversary Festival event in Chiba on October 20 at 1:00 p.m.

=====



To Love-Ru Darkness TV Anime's 1st Promo Streamed


Anime of Saki Hasemi & Kentaro Yabuki's romantic comedy spinoff to debut in October




The official website for the To Love-Ru school romantic comedy franchise began streaming the first promotional video for the upcoming To Love-Ru -Trouble- Darkness television anime series on Friday.

The television anime adaptation of Saki Hasemi and Kentaro Yabuki's manga spinoff will premiere in Japan this October. The main characters this time are Momo and Yami, but the other heroines will also appear in the new anime. The story will include Momo's "slightly risqué" "harem plan."

Atsushi Ootsuki is returning from the first To Love-Ru television anime to direct at Xebec, and To Love-Ru veteran Yuichi Ouka is also designing the characters. The cast is returning from the first series as well.

=====



3rd Yamato 2199 Anime Film's Promo Streamed


3rd film covering episodes 7-10 to premiere in Japanese theaters on October 13




On Friday, the official Yamato Crew community began streaming a two-minute promotional video for the third installment of the Space Battleship Yamato 2199 television anime series and film project. The third film, which will cover episodes 7-10, will open in 12 theaters in Japan on October 13. The Blu-ray Disc and DVD volume for the third film will then ship on November 22.

Yutaka Izubuchi (RahXephon), the 53-year-old animator who worked on mechanical designs and science-fiction concepts on some of the earlier projects in the Yamato franchise, is serving as chief director of this remake of the first series. Nobuteru Yuki (Escaflowne, Record of Lodoss War) is designing the characters, and the anime studios XEBEC and AIC are producing the anime.

The first episode of the television series was previewed on TV on April 6; however, the rest of the episodes will not run on television until 2013 or later.

=====



Mondai-Ji-tachi ga Isekai Kara Kuru Sō Desu yo? Anime's Staff Listed


The official website for the anime adaptation of Tarō Tatsunoko's Mondai-Ji-tachi ga Isekai Kara Kuru Sō Desu yo? (Don't Problem Children Come From an Alternate World?) fantasy comedy light novels has announced the show's main staff.




Keizou Kusakawa (Magical Girl Lyrical Nanoha series and films, Asura Cryin') will serve as chief director, and Yasutaka Yamamoto (Squid Girl Season 2, Valkyria Chronicles) is serving as director. Noboru Kimura (Amagami SS+, Nyarko-san: Another Crawling Chaos) is handling the series composition, and Naomi Ide (episode animation director for Astarotte's Toy, Squid Girl) is handling the character design. Diomedea (Squid Girl, Campione!) will animate the series.

The official website is also currently hosting images of character designs for four characters from the series (see above).

The story follows Izayoi Sakamaki, a boy bored with the entire world. One day, an envelope arrives for him. The moment Izayoi opens the envelope, he is transported to an alternate world. There, he discovers that two other "problem children" were transported by envelopes as well — a taciturn girl named Yō Kasukabe with a cat, and a beautiful yet haughty girl named Asuka Kudō. A girl named Kuro Usagi (Black Rabbit) summoned the three to the community "No Name" to overthrow the devil.

=====



Girls und Panzer TV Anime to Debut on October 8


The series will premiere on October 8 on Tokyo MX.




Girls und Panzer's story centers around high school girls who drive tanks that exist in real life, as they compete in teams.

Mizushima (Squid Girl, Another, Blood-C, XXXHOLiC) is helming the anime at Moetan's studio ACTAS (with 3D CGI by Strike Witches' Graphinica) with Reiko Yoshida (K-ON!, Romeo × Juliet, Saint Seiya Omega) in charge of scripts. Humikane Shimada (Strike Witches, Sky Girls) is in charge of original character designs with assistance by Takeshi Nogami (Strike Witches: The Witches of Andorra, Panzer fräulein ALTESEISEN, Sailor-fuku to Jūsensha). Isao Sugimoto (Seikon no Qwaser II, Kemeko Deluxe!, Moonlight Mile) is adapting Shimada's designs for anime and serving as chief animation director.

=====



Suki-tte Ii na yo. TV Anime to Premiere on October 6


ZEXCS' anime adaptation of Kanae Hazuki's Suki-tte Ii na yo. (Say "I love you".) shōjo manga will premiere on Tokyo MX on October 6.




Takuya Satō (Steins;Gate, Strawberry Marshmallow) is directing the series and is also handling the series composition. Toshimasa Kuroyanagi (episode director for Kimi ni Todoke, Minami-ke) is serving as series director, and Yoshiko Okuda (animation director for Casshern Sins) is handling the character designs. Junko Watanabe (NANA, Blood-C) is serving as chief animation director and Yuuji Nomi (Whisper of the Heart, Royal Space Force - The Wings of Honnêamise) is handling the music.

Ai Kayano and Takahiro Sakurai wil star as Mei Tachibana and Yamato Kurosawa, respectively.

=====



AKB0048's 'Next Stage' to Premiere in Early 2013






The official website for the AKB0048 television anime series announced on Friday that the "next stage" project will hold its broadcast premiere in early 2013. The most recent episode in the anime had announced in July that the anime would return next year.

=====



Bakuman's 3rd Series Slated for October 6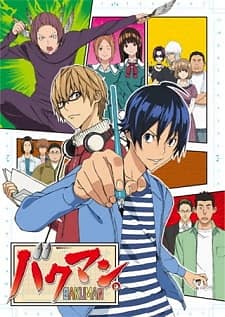 Like the previous two anime series, the new one will adapt Takeshi Obata and Tsugumi Ohba's manga about aspiring teenaged manga creators. The focus in the third series will be on the creators' new fictional PCP manga as it rises to the top of the magazine readers' popularity surveys.

The third anime series will retain the staff of the previous series: directors Kenichi Kasai and Noriaki Akitaya, series script editor Reiko Yoshida, and the anime studio J.C. Staff. The original manga ended its run in Japan in April.
_________________
★☆★☆★☆★☆★☆★☆★☆★☆★☆★☆★☆★☆★☆★☆★☆★☆
★☆★☆★☆★☆★☆★☆★☆★☆★☆★☆★☆★☆★☆★☆★☆★☆

-=loke1923=-
★☆★☆★☆★☆★☆★☆★☆★☆★☆★☆★☆★☆★☆★☆★☆★☆
Having a boring life?
Just always do this!


Similar topics
---
Permissions in this forum:
You
cannot
reply to topics in this forum